Phud's Omega Aussie Oil
- Quality, Australian, Nutrient fullness -
Australian Tasmanian Golden Flaxseed Oil is fresh, full of essentials for your pets at the most economical price
Omega-3 fats are essential for optimum health and a shiny coat. Ideal for older pets as this will aid in joint movement (see also Creaky Bones)
A rich source of Omega 3 and omega 6 , Tasmanian flax is cold-pressed from plump 'n shiny Tasmanian-grown flaxseeds.
Add into your pets food, they enjoy the taste.
Dosage Amounts
If you feed Phud's food you will only need to give Omega Oil a few times per week (2-3) as Phud's food
contains natural sources in coconut and flaxseed dried
If your dog has chronic skin conditions and feeding Phud's food then give Omega Oil 5-7 times per week.
To maintain freshness and prolong shelf life, flaxseed oil should be kept IN THE FRIDGE
At only one teaspoon (5ml) per 10 kilo dog this becomes an essential boost for the immune and skin systems.
Costings Per 10 Kilo Dog if feeding Phud's Food
280ml bottle will give 56 day doses
18 cents per dose or 54 cents per week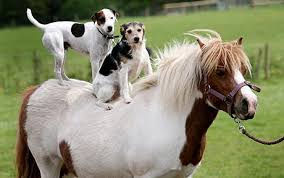 Both Omega 3 fatty acids and Omega 6 fatty acids are essential for health. Pets with allergic (flea allergy dermatitis), auto-immune (pemphigus, rheumatoid arthritis), or inflammatory (arthritis, glomerulonephritis) conditions need more Omega 3 fatty acids. Pets who have chronic illness (FIV, FIP,cancer) need more Omega 6 fatty acids.
Omega 3 fatty acids and Omega 6 fatty acids are both incorporated into cell membranes throughout the body. When the cell membranes are damaged, fatty acids are released. Released Omega 6 fatty acids are 10-100 times more likely to promote inflammation than are Omega 3 fatty acids. Inflammation is beneficial if there is an infection your pet needs to fight. Most pets, however, have health problems caused by too much inflammation (flea allergies, arthritis, auto-immune disease), so most pets benefit from supplements with higher concentrations of Omega 3 fatty acids.
Key facts about Omega fatty acids
Used for treating your pet's flea allergy dermatitis, skin conditions, arthritis, kidney disease, feline immunodeficieny virus (FIV), feline leukemia virus (FeLV), and cancer

Omega 3 helps control your pet's inflammation, ease arthritis pain, benefit the heart & kidneys, increase trainability, and improve mood

Omega 6 helps your pet fight infections and promotes healthy skin and a shiny coat

Giving excess fatty acids may cause diarrhea
(183)
| | |
| --- | --- |
| SKU | 183 |
| Shipping Weight | 0.2800kg |
| Shipping Width | 0.300m |
| Shipping Height | 0.150m |
| Shipping Length | 0.100m |
| Shipping Cubic | 0.004500000m3 |
Be The First To Review This Product!
Help other Phuds users shop smarter by writing reviews for products you have purchased.
---
More From This Category